There are many tales of cycle touring far off lands, whole continents and even the world, but a great tour can be as simple as an adventure from your front door. Follow Mel Nicholls on her summer cycle tour from Edinburgh to Lincolnshire.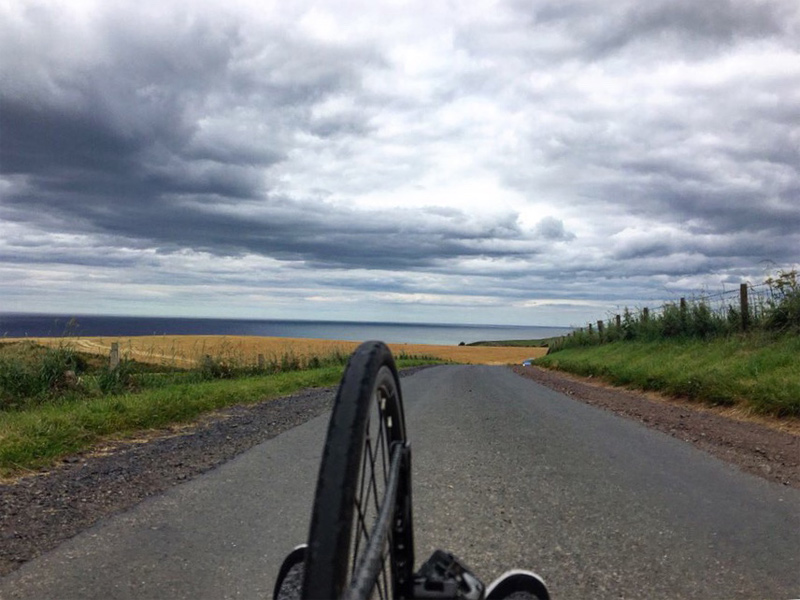 For me as for many, the best kind of summer break is by bike.
Taking in the sights, exploring new places and hidden treasures, stopping for local delicacies, coffee and cake, and meeting new people on the road and sharing stories under sunny skies and occasional showers. All from the saddle of your trusty steed.
There are no rules to how far or how fast. Cycle touring is at your pace and pleasure, making it accessible and enjoyable for all.
While you're never guaranteed fair weather during British summers, the generally dry conditions and longer daylight hours make it the perfect season to try out touring.
For 6 days in July, I joined world cyclist and fellow GetOutside champ Debs Butler for an East Coast Cycle Tour.
My tour began from the south as our rendezvous point was just south of Edinburgh.

The first day I travelled solo on a combination of train and bike, on my way to meet Debs, ready to start a journey back south along the coast of East Lothian, before entering a region I had yet to explore, Northumberland. Our tour would then take us inland through Yorkshire and finish back in Lincolnshire where my journey began.
But all that could wait while I filled my hunger with hot coffee and a delicious slab of rocky road at the cafe in Dunbar, appropriately situated next door to the birthplace of John Muir, now the John Muir Museum and starting point of the John Muir way.
After all, I had already covered around 60 km and was about to do the same back, and feed stops are a great part of any cycle trip.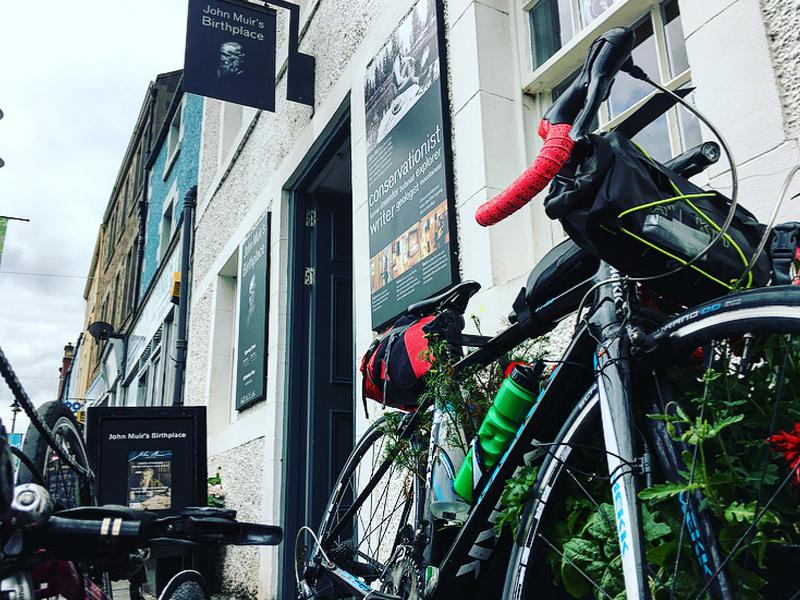 Over the next five days we made our way south. We wanted to travel as light as we could, so we decided not to camp on this trip meaning we didn't need to carry tents and camping equipment - though camping definitely has its place while touring. It sure is a great feeling knowing you have everything you need on your bike, able to pitch up at ease and not be on anyone else's schedule.

However, if you want to move a little faster and climb hills a little bit easier, opting for alternative stop offs including YHA's, cycle hosting schemes or even hotels is perfectly acceptable, after all, you make the rules on your journey.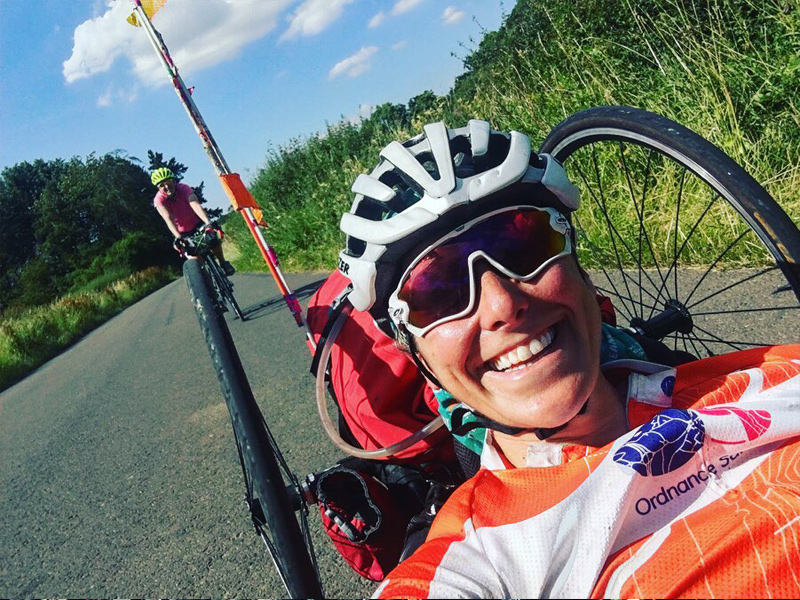 We had scheduled stops most days, while on other days we decided en route. This was good as it gave us some extra flexibility in our plans and allowed us some interesting detours and unplanned sightseeing opportunities.
It's great to have a plan and a route in mind, how ever that is worked out, but the ability to change that plan is just as important. There were days on our trip to just ride all day, then some days we wanted more time for stops and taking in the scenery so we were able to adapt our plan and our distances to suit this (on occasion using the rail network through busy cities and to take off a chunk and allow us to ride the tour our way).
Train companies will take a small number of bikes on their trains, you just need to make sure you have booked them on ahead of your journey by contacting them.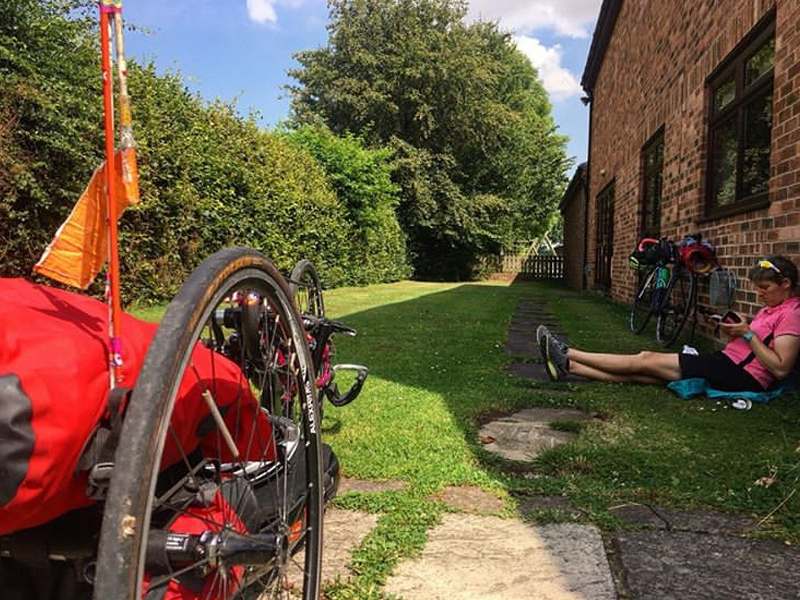 The majority of our route followed Sustrans National Cycle Network.
We found this easy enough to follow, though sometimes covering a variety of terrain, it was an adventure in itself! It did however keep us off the main roads and take us along more scenic, traffic-free routes.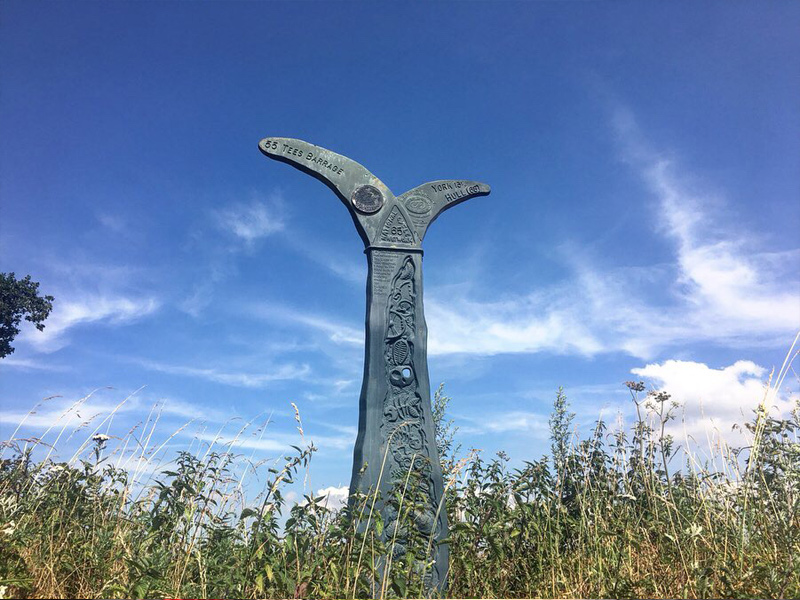 With the newly announced addition of the National Cycle Network on OS Maps, route planning the UK's 16,575 miles of NCN routes can be done from your laptop and navigating on the road is possible through the OS Maps app.

However, don't just rely wholly on technology, paper maps and signposts will never run out of battery.
From Dunbar we cycled the coast back down to Berwick upon Tweed. I admit to having to check if Berwick was in fact in England or Scotland, learning that in fact the border is just 2.5 miles north of the Northumberland town.
Not surprising, with its turbulent history, and having changed hands between the English and the Scots at least thirteen times in history. The people of Berwick - are known as Berwickers, first and Scottish or English, second.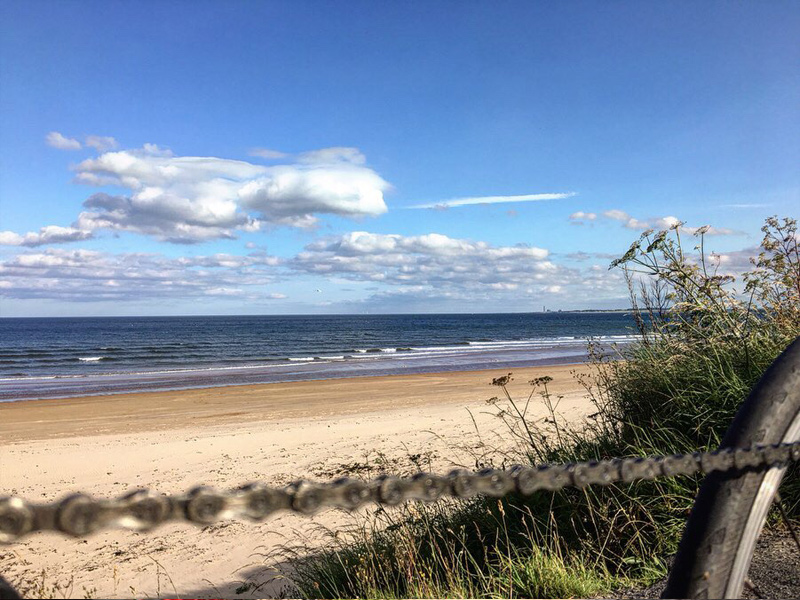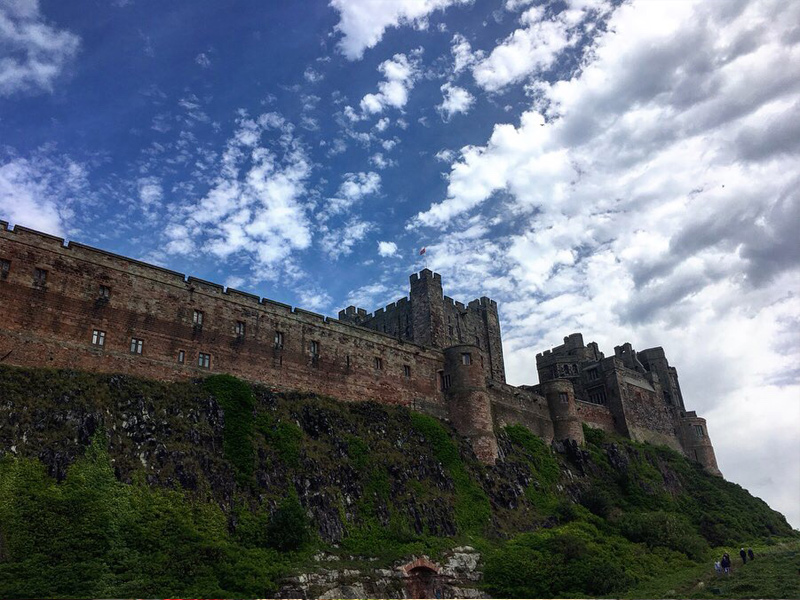 Berwick castle was built in the 13th century, though much of it was sadly demolished in the 19th century to make way for the railway, substantial ruins remain just outside the towns rampart walls.
Our leg from Berwick to Morpeth of 102 km took us largely along the shore with beautiful views over the Northumberland coast, glimpses of Holy Island and a well-earned brunch stop at Bamburgh castle, most recently used in the movie, 'The BFG'.

This stretch definitely gave me some of my favourite views on the tour.
Riding into York from Northallerton for a bit of sight-seeing was a welcome end to another day on the road. Staying at York YHA, bikes and riders glad of a rest and a cool refreshing shower after a hot summer's day in the saddle, and fish and chips eaten by the river.
Our final day saw us finish our tour 500 or so kilometres south of our starting point, a little bit grubbier, cycling tan lines a little bit sharper, 1 puncture down, a few cakes had, and a journey along the East coast by bike that had taken just 5 days, and one I'd never seen before in my lifetime.
Kit list:
Panniers / bike bags (For my handbike I use a drybag modular system)
Small bike tool kit, pump, puncture repair kit, spare tubes
First aid kit
Water bottle - I always carry hydration electrolyte tablets to add to my water
Bike lights and head torch
Map
Ride snacks
Sun cream
Travel towel
Pen and paper
Lightweight waterproof jacket
Minimal cycling clothing - The wash one, wear one model works well
Mobile phone and battery charger
Camping equipment (optional)
A sense of adventure
Published: 28/08/2019
About:
Endurance wheelchair racer and paracyclist on her road to Tokyo 2020.